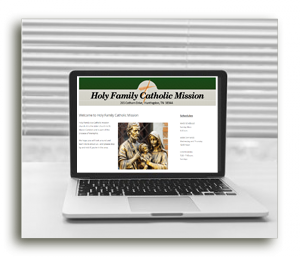 Mass Request Form (pdf) CLICK HERE to download.
Catholic.org

Catholic News and Information Center for Catholics and All People of God, to Help them Deepen their understanding of Our Catholic Faith.

Diocese of Memphis

Serving counties in the western part of the state of Tennessee. Read about our mission statement, demographics, ministry offices, parish and school directories, etc.

Vatican

Official Vatican homepage. Presents news services, information on the history of the Catholic Church and departments of the Roman Curia, etc.

Welcome Home

Faith should touch every corner of our lives. We know it can be intimidating to walk through those doors, but we've been expecting you. Welcome home.

Catholic News Agency

Daily news source with global coverage of the Catholic Church. Reports from the Vatican, US, Europe, Africa, Asia, and Central and Latin America.