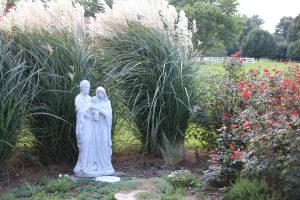 On June 30, 1998, Sr. Loretta Danfeld, A Franciscan Sister from Little Falls, MN, was hired as Pastoral Coordinator for Carroll County and Pastoral Associate of St. Mary's in Camden. The first Mass of the Carroll County Catholic Mission was held on Nov. 27, 1989 at the home of Mark Ramsey. Masses continued at various locations until Oct. 1992, when The New Life First Assembly of God Church was put up for sale.
After months of negotiations, the church and rectory, consisting of four acres, were purchased for $135,000. Holy Family Catholic Church was the name chosen by its parishioners and celebrated its first Liturgy on June 3, 1993. On its fourth anniversary, Nov. 27, 1993, Holy Family was formally dedicated with Bishop J. Terry Steib presiding.
Father Joseph Paolozzi was the residing Pastor and traveled back and forth between Holy Family in Huntingdon and St. Mary's in Camden.